Visiting artist draws the movies
By David Prabu
Athens NEWS Contributor

Smoke curled from his half-lit cigar, which he chewed tenaciously. His spectacles hung loosely from a black silk cord around his neck. And Hollywood exuded from his portfolio in which he carried posters of the films "The Right Stuff," "The Razor's Edge," "Papillon," "Star Wars," and "The Empire Strikes Back."
He is Tom Jung - graphic artist and illustrator for motion pictures. Jung was in Athens last week as a guest of the Ohio University Film Department.
After 25 years in the business, Jung said. "It's a wonderful way to make a living." He is not fazed by Hollywood's limelight. He has carved a niche for himself and is happy with his backstage cameo role in the big-buck industry.
"Print is very important. Selling of films through posters makes a difference between success and failure." he said, "The goal of poster art is to crystallize a film into a simple image - to catch a moment."
Jung was born into a showbiz family in Boston. From his school days he has been "catching" fleeting moments of life on paper. Three times a week he attended films at the Boston Art Museum.
After his graduation from school he went to the Museum of Fine Arts in Boston. During his second year he was drafted in the Army. Following his discharge, he worked as a freelance illustrator and art director with a number of big-name advertising agencies in New York.
"I got a lot of breaks from the very beginning," Jung said. His first break came in 1958. He was hired by a friend to redesign ad campaigns of foreign films to suit American audiences. Jung's work on "La Strada" and "And God Created Woman" helped introduce American audiences to the magic and genius of Federico Fellini and Roger Vadim.
He worked with Continental, the largest distributor of foreign films at that time, on ad campaigns for classics such as "Room at the Top" and "View From the Bridge."
When Continental's Director of Marketing left to go to Metro-Goldwyn-Mayer in 1962, he took Jung with him. As a freelance art director at MGM, Jung designed posters for "Dr. Zhivago," "Ice Station Zebra," "Shoes of the Fisherman" and the re-release of the ever-green "Gone With the Wind."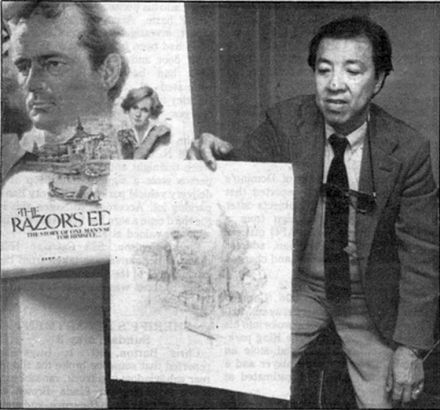 Los Angeles freelance artist Tom Jung displays movie advertising illustrations he produced.
In 1968 he was hired by Cinema Center Films to handle the art direction for their entire release schedule of nearly 30 films.
Though he had worked as an art director and designer in many campaigns, it was not until 1971 that his art painting was accepted. "Papillon" was the first major break that pushed him into the big-bracket category.
"It was obvious that Dustin Hoffman and Steve McQueen had unique roles in 'Papillon'," Jung said. "Steve represented, at that time, a gut of defiance that any person identify with...defiance against oppression and authority." The poster made with this theme merged perfectly with the mood of the film.
"I make a nice living and work with an awful lot of talented people," he said. "After all, it is a job - only it's glamorous."
For a man who painted hundreds of watercolors in high school, 25 years of labor has paid off with a series of top-drawer posters.
Courtesy: Daniel Saez
Source: Athens (Ohio) News - Spring 1987