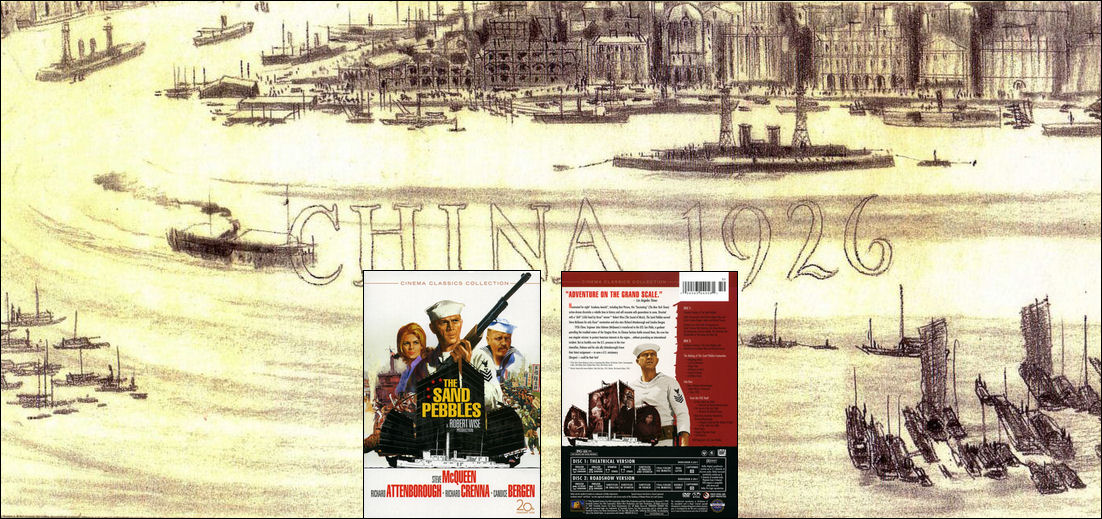 A Review of The Sand Pebbles - 2007 (2-disc) DVD Cinema Classics Collection
by Rory Monteith (TSP Contributor)
On June 5, 2007 Twentieth Century Fox Home Entertainment released, with very little fanfare, what I feel is one of the best DVDs of that year -- The 2-disc Cinema Classics Collection of THE SAND PEBBLES. For a Fox film that isn't one of their blockbuster titles the amount of attention paid to the quality and content of this DVD package constitutes a kind of official recognition on the part of the studio that this is one of their "classics," at least of the kind of wide-screen 'Roadshow' epics of the 1960s, the likes of which we may never see again, and of the enduring reputations of both its star and director.
Fox has gone all out to restore THE SAND PEBBLES to pristine condition, but their effort hasn't been without some controversy, at least among fans such as myself. As extensively covered on this website, there are two (actually three) versions of the film and apparently it's the 182 min. 35mm Panavision 'general release' (or as Fox likes to call it the 'Theatrical Version') that counts as the official presentation. The 195 min. Roadshow version, which was of course also a 'theatrical' presentation, seems to be relegated now to mere footnote status.
In fairness to Fox, THE SAND PEBBLES initial Roadshow engagements were a special event that required a blow-up of the original 35mm anamorphic Panavision negative to 70mm since that's the format most 1960s Roadshow presentations were photographed in (actually 65mm printed on 70mm stock to add room for 6-track sound), such as Fox's THOSE MAGNIFICENT MEN IN THEIR FLYING MACHINES (shot in Todd-AO) in 1965. Therefore, since the film is a 35mm (2.35:1 aspect ratio) Panavision film as shot, no restoration of a 70mm (2.20:1 aspect ratio) print element should be expected.
Fox has gone to extensive efforts to restore the original film elements of the 182 min. version of the film (For details of the restoration of THE SAND PEBBLES click here, however, the 35mm footage that went into making the Roadshow version thirteen minutes longer either can't be located or no longer exists (and I should mention here that there was also a 200 min. preview version at one time), therefore what Fox has presented in this package as the 'Roadshow Version' is an actual 70mm print from 1966 that the studio says was discovered in what they call their "70mm Archive." Unfortunately, as I'll detail later, this archival print has badly faded.
THE SAND PEBBLES was previously released on DVD in 2001 and this new 2-disc release now supersedes that one in all respects.
Disc One presents the fully restored 'theatrical version.' The 16x9 anamorphic transfer is beautiful; often displaying imagery that looks as if it were shot yesterday, and the film's audio has been restored from the 6-track mag elements for the 70mm version (5.1 Dolby Surround on the disc), and the 4-track mix of the 35mm print version (4.0 Surround). (For more details on the audio restoration click here ) Spanish and French dubbed stereo tracks are also provided, as are subtitles in English and Spanish.
Carried over from the previous release is an excellent audio commentary with director Robert Wise and actors Candice Bergen, Mako and Richard Crenna. (Crenna was uncredited in this commentary on the 2001 release, and, sadly, since then Richard Crenna, Mako and Robert Wise have passed away.)
A new second audio commentary is dedicated to one of the best elements of the film, the late Jerry Goldsmith's score, presented as an isolated stereo track, which features between the musical cues a lively discussion with music producer Nick Redman, film music historian Jon Burlingame, and film historian Lem Dobbs. This type of 'music commentary' is something new to Fox DVDs, and as a fan of Jerry Goldsmith and film music in general, I'm keeping my figures crossed that we get more things like it in the future. For me, it's one of the most pleasurable features of this DVD package.
Disc Two is a two-sided DVD containing the 'Roadshow Version' of THE SAND PEBBLES on Side One and an excellent package of extras on Side Two.
As I stated before, the archival 70mm print of the Roadshow Version is badly faded, specifically the cyan and yellow layers, leaving mostly the magenta, hence a print that's too red in interiors and too washed-out cyan in exteriors. Skintones are nearly all very red, and the print is overall too dark. As a fan of the film I had no problem sitting through the Roadshow Version once I understood what it was and wasn't, but I can imagine the average DVD enthusiast will run in horror from it. A number of screen captures from both the fully restored 35mm version and the archival 70mm version are available below to make the differences plain.

Robert Wise and Richard Zanuck provide introductions to the 'Roadshow Version,' but these are really just segments of interviews they've given in which they explain what a Roadshow Engagement was. (For more information on Roadshow presentations click here).
As detailed elsewhere on this site (click here) there are a number of scenes and extensions of scenes that haven't been available for viewing since the 1960s, so being able to finally see them can be fascinating (at least for fans). None of the extra footage in the 'Roadshow Version' alters or enhances the 'Theatrical Version' significantly, but because of the character of the print on view it can't now help but be a different viewing experience. I find looking at what Fox has provided -- essentially as a free extra on the DVD -- like viewing a time machine in many ways; it's not only an artifact of a kind of motion picture presentation that's gone with the wind, but also presents a dark and faded vision of history both American and Chinese.
I do wish though that Fox could restore the 35mm elements of THE SAND PEBBLES to the 195 min. Roadshow length. What they call the 'Theatrical Version' is really a general release edit that was done without the consent of director Wise, therefore, in my opinion, the Roadshow version constitutes a "director's cut" and should be recognized as the preferred version of the film. (There was, of course, an even longer 200 min. audience test or "Preview" version. It would be great if those "lost scenes" could be found, but I wouldn't feel right demanding they be restored to the film proper.)
Side Two of the Second Disc presents the DVD's package of extras in three parts.
Part One is "The Making of The Sand Pebbles," a brand new documentary produced by Stonehenge Media. Surviving cast and crew, including the former Mrs. Steve McQueen, Neile Adams, are featured during the program's 65 min. running time, which is divided into six 'featurettes' of various lengths and covers in fine detail nearly every aspect of the film's production, release and lasting legacy. Since liberal use of Jerry Goldsmith's emotional score is made throughout, parts of it can be quite affecting and I can't imagine fans of the film having anything but praise for this effort.
Part Two is called "Side Bars" and contains three featurettes running a little over 10 min. each. 'Steve McQueen Remembered' and 'Robert Wise in Command' praise both the careers and legacies of late star and director. 'China 1926' is slightly longer than the other two featurettes and goes into the historical backdrop the movie depicts with experts on China. Both the film's accuracies or lack thereof are brought out, and if you are completely unfamiliar with the 'Sand Pebbles' and China in 1926, I suggest this featurette be your first port of call.
Part Three is a smorgasbord of stuff under the heading 'From the FOX Vault.'
Two vintage featurettes, 'A Ship Called San Pablo' (Narrated by Richard Attenborough) and 'The Secret of the San Pablo' (Narrated by Richard Crenna) are presented in pristine quality. Both films concern the various aspects of what was then the most expensive movie prop ever made, the boat that appears in the film, but what they offer of glimpses into the filming of the entire production is of real interest now.
Two of what's called "Radio Documentaries" titled 'Changsha Bund and the Streets of Taipei' and 'A Ship Called San Pablo' are next up. These were promotional audio clips that were sent out to radio stations of the day and are merely portions of the audio from the featurette narrated by Richard Attenborough.
Next up are three 1967 'Radio Spots' that can also be listened to on this site here.
Then there's an original 'Theatrical Trailer' (3 min. 17 sec.) that's thankfully letterboxed and 16x9 anamorphic, but I'm disappointed we didn't also get teaser and reissue trailers and TV spots.
Under the heading 'Still Galleries' are five chapters:
'Behind the Scenes' (99 images)
'Production Art' (a disappointing 9 images)
'Publicity' (39 images)
'Posters' (19 images)
and one of Fox's best new extras features, an 'Interactive Pressbook'
As nice as it is to have the images on DVD, such things are really best viewed on websites such as this.
The final DVD extra is a reproduction of the MAD magazine parody The Sam Pebbles from a March 1968 issue. This is something that fans who really know the movie will best appreciate and can also be viewed on this site (click here).
And that's not all! Also included in the package is a miniature reproduction of the Roadshow Souvenir Book.

And a packet of postcard-sized stills Fox calls 'Mini Lobby Cards,' and an insert flyer. The outside slipcase features reproductions of original release US poster art, while the inner snapcase reproduces the artwork from the Spanish poster.
With the exception of the disappointing quality of the 70mm Roadshow print, this 2-disc edition of THE SAND PEBBLES has nearly everything fans could desire. Obviously many people at Fox are big fans too, and at $19.98 retail -- but can be found discounted to around 15 dollars! -- this is not only one of the best DVDs of 2007 but one of the best DVD values ever.
(As of this writing, Fox has announced that THE SAND PEBBLES will be released on Blu-ray DVD in June 2008. I'm certain the transfer that will be used is the fully restored one detailed in the link above, which means no Roadshow length version (certainly not a faded 70mm print), but does mean the 'Theatrical Version' will look even better than it already does. Will the rest of the extra package in this release be included on Blu-ray? I guess we'll find out in June.)